MiniFinder® Pico is a multi-purpose mini GPS tracker that works worldwide.
As the name suggests, "Pico" is a very small GPS tracker, only 60 * 41 * 16 mm (2,4 x 1,6 x 0,6 inch) and weighs as little as 35g (1.23 oz).
Behind the little shell, we find the technology of the highest quality for people, pets and valuables tracking.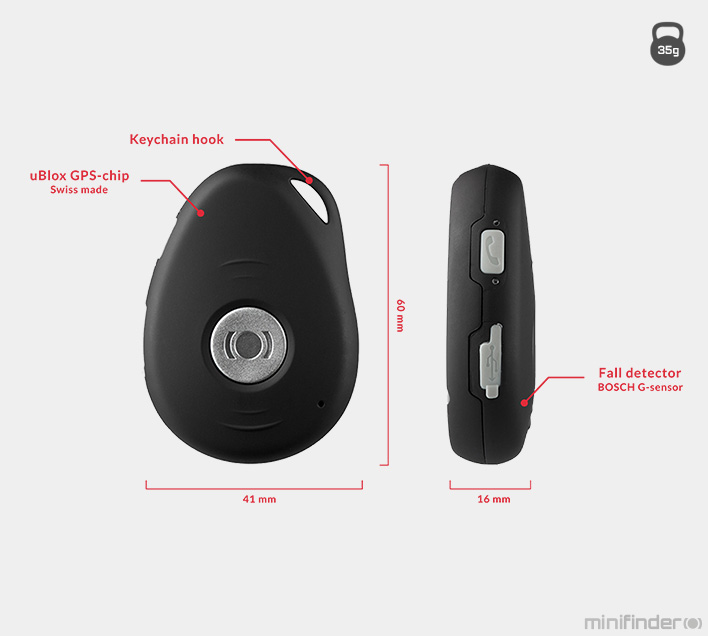 The distinctive feature of this device, in addition to the design and size are its battery life and performance. In standby mode, the battery can last up to 20 days. The normal working mode device will last between 6-7 days. We dare say that in the current situation, there is no device of this size that can do this.
Track transmitter is based on the world's leading GPS technology and has a built-in GPS chip from Swiss U-Blox that is both lean and powerful little chip.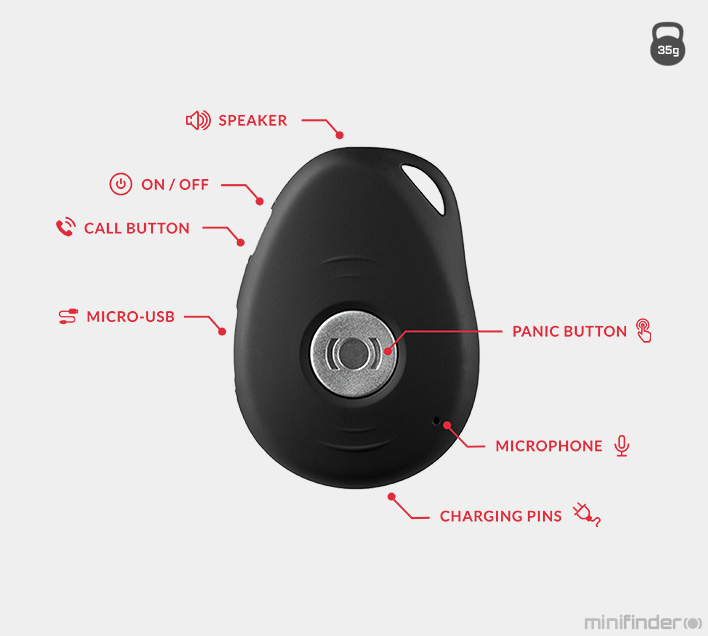 Features
Live tracking

Track the user of Pico via the live tracking system.



Tracking by SMS

Track your Pico on-demand via SMS. No monthly fees needed.



GoogleMaps

MiniFinder Pico supports Google Maps link in SMS. Just press on the link in returning SMS from MiniFinder and show the location of the Pico user on Google Maps



Geo-Fence

The unit alarms by sending you a text message if it is outside a defined area



Monitoring

GPS Tracker will automatically answer your calls and enables voice monitoring e.g. your pet or a child



Track by time interval

Set the time interval of at least 10 seconds and you will receive information about the position repeatedly



Call feature

The device supports two-way communication



Built-in G-sensor

The unit will be set to report its position once it is in motion.



Fall down alert

Device supports fall down function; meaning if a person falls down an alert will be sent out.



GPS blind area alarm (in/out)

Alarms the owner if the GPS tracker comes in areas without GPS signal and alarms again when it receives a signal.



Low battery alarm

When the battery is low, you'll receive a text message telling you the battery level and that it needs to be charged.



Speeding alarm

Set the speed limit to get the information if it is exceeded

Package contains:
The device, GPS tracker MiniFinder

®

Pico
Micro USB cable
Quick guide (English, Swedish, German, Dutch, Spanish)
Warranty:
12 months




MiniFinder® Pico's design is patented in EU. Design number: 002881680-0001
Technical specification
Size
60 mm × 41 mm × 16 mm
Weight
35g
Battery
Lithium-ion, 900mAh
GSM-band
850/1900Mhz, 900/1800Mhz
Power source
110-220V input, 5V output
GPS start
Active 1s, Warm 35s, Cold 45s
Operating
-10°C till +60°C
GPS sensivity
Accuracy (position)
5m
GPS chipset
u-Blox 7
Humidity
5% to 95% non-condensing
Work tid
480h standby
Memory
8Mb (flash memory)
LED
Buttons
SOS and On/Off
Brand:

MiniFinder®

Product Code:

GSE-MFP

EAN:

7350090720016
Availability:

In stock

Delivery within:
MiniFinder® GO Tracking System
Need help?
Please Mail us or Call us +46(0)470-786833
and we will do our best to help you.
Related products